About Us
Established in 1998, Tri-County Mobile Veterinary Clinic provides comprehensive medical, surgical and dental care for your pets.
We also provide a broad spectrum of diagnostic procedures through in-house testing, including ultrasonography, and the use of external laboratories. We work closely with local practices when special diagnostic procedures are required. The mobile veterinary unit includes cages for short-term hospitalization, a mini-laboratory, pharmacy, and the latest in surgery and dental equipment, including Isoflurane anesthesia, IV catheters and surgery monitors.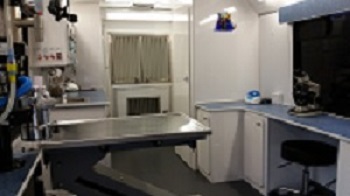 At Tri-County Mobile Veterinary Clinic we strive to offer not only sound advice, but also optimal veterinary care, thus allowing you the enjoyment of your companion for a maximum number of years. Our job is not only to treat your pet when he or she isn't feeling well, but also to help you learn how to keep your best friend happy and healthy. By providing these services to you on a house-call basis, we hope to make your experience positive and as stress free as possible.

WHO USES A MOBILE VETERINARY CLINIC?
Anybody. This service is particularly convenient for people with multiple pets, large pets, pets that don't like to travel or for their owners who may not drive. At home visits are attractive to people with busy schedules or for those with small children. A home visit means no wasted time in a busy waiting room and a furry mess in your vehicle to clean when you get home!



WHAT IS A HOME VISIT LIKE?
Most pets prefer a mobile clinic visit to their home over a car ride and time spent in a busy clinic waiting room. Pets are more relaxed and less stressed in their familiar home environment. Our appointments are, on average, longer than those in stationary clinics. We spend an average of 20 minutes on each pet in our mobile unit and answer all your questions. Our mission is to provide the most compassionate and highest quality of care to your pet family member.

IS THERE ANYTHING THAT CAN'T BE DONE AT THE TRI-COUNTY MOBILE VETERINARY Clinic?

Yes. There are a number of services that in the best interest of your pet's safety, we cannot provide. Among these are:
1. Hospitalization and boarding: We believe in some cases if your pet is ill enough to require hospitalization, it should receive around the clock monitoring by trained personnel. We recommend the Michigan State University Small Animal Clinic (517-353-5420).

2. Critical emergency calls: Although we have extended evening hours on two week nights, we do not have a stationary location for you to rush your pet to. Given the mobile nature of the clinic, we may be too far away from you to be of service in an emergency. Again, in the case of an emergency, we would recommend the services of Michigan State University Small Animal Clinic.

OUR SERVICE AREA:
Tri-County Mobile Veterinary Clinic provides services to pets within a 20 mile radius of Lansing. We also provide limited services to areas outside of this range, including Howell. This includes the counties of Clinton, Eaton, Ingham, Livingston and Shiawassee.