Doctors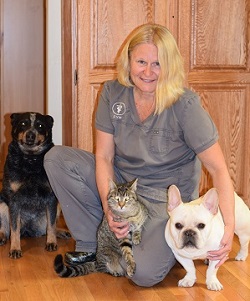 Dr. Lori Themel
Dr. Lori Themel is a 1992 graduate of Michigan State University College of Veterinary Medicine. She is a member of the American Veterinary Medical Association (AVMA), the American Association of Feline Practitioners (AAFP), the American Association of Housecall and Mobile Veterinarians (AAHV), and the Michigan Veterinary Medical Association (MVMA). Her undergraduate degrees and graduate degree training at Michigan State University focused on microbiology, public health and molecular biology.
Dr. Themel practiced in Central Indiana from June of 1992 until February of 1998, where she treated all types of pets, farm animals, zoo animals and wildlife. After relocating to the Lansing, Michigan area in early 1998, Dr. Themel opened Tri-County Mobile Veterinary Clinic.
In her spare time, Dr. Themel enjoys being with family and friends, cheering on the Spartans, gardening at her home in Fowlerville , attending dog shows with her French bulldog Stitch, and biking or running around Lake Lansing and sometimes sailing.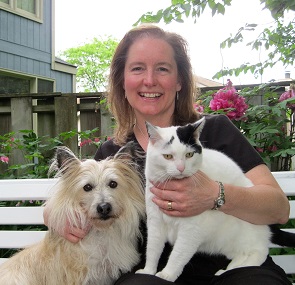 Dr. Vicki Miksicek
Dr. Vicki Miksicek graduated from Michigan State University's College of Veterinary Medicine in 1992. As a matter of fact, she and Dr. Lori were classmates! She also has a Bachelor's of Science in Zoology from MSU. She started her veterinary career in house call practice and enjoys the more personal care she can give pets and their owners by visiting them at their homes. As a Michigan native she has practiced small animal medicine in several areas including Port Huron, Rockford and Bancroft.  Dr. Vicki has a special interest in dermatology and internal medicine of dogs and cats. When she isn't working she enjoys kayaking, ballroom dancing, painting, and walking in the woods with her dog Scruffy. She and her family also share their home with Bailey the cat, Chloe the gerbil, Heidi the hamster, and numerous fish.